National External Diploma Program (NEDP)®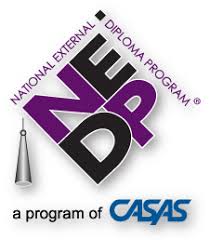 The National External Diploma Program (NEDP)® provides a unique way for adults to earn a high school diploma. It is a computer-based high school diploma program for adults who have acquired their academic skills through life and work experiences. Students work independently while maintaining weekly appointments with a certified NEDP® advisor/assessor.
The program measures academic and life skills, such as Reading, Critical Thinking, Oral Communications, Mathematics, Writing, Self-Awareness, Consumer Awareness, Occupational Awareness, Scientific Awareness, and Social Awareness.
The goal of this program is to help those candidates in need of a high school diploma, but choose not to go through the traditional credit diploma classes or the GED® program. The NEDP® is recommended for those at least 21 years of age.
Schedule an Online Information Session by emailing Andrea.Pozzuoli@whschools.org requesting a session, include your full name, phone number and address. We will contact you to schedule the session.
This program is free to students who live or work in Ansonia, Derby, Monroe, Seymour, or Shelton.
Scheduling Information
May 3rd, 2023 to December 31, 2023