Adult High School Credit Diploma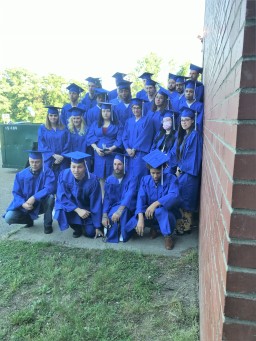 Attend credit-based classes and graduate with a high school diploma. Earn your diploma by attending classes in regular classroom settings at a convenient time. The classes are held in person in the afternoon and evenings, Monday - Thursday. In addition there are Volunteer Projects, Online Distance Learning Classes, and more. We are here to help you reach your goals!
Upon completion of approved instruction, students receive a Valley Regional Adult High School Diploma.
Classes are FREE to residents of Ansonia, Derby, Monroe, Seymour, and Shelton. A small fee is charged for non-residents if space is available.
Classes are held at: Valley Regional Adult Education located in the The Richard O. Belden Cultural Center, 54 Grove Street, Shelton
New Student Information
Students must have an official transcript from the last high school they attended.
This program is for students (age 17 and older) officially withdrawn from school. If you are seventeen years of age you must also provide a copy of your withdrawal letter signed by your parent/guardian from the last day school attended.
Scheduling Information 2023-2024
Trimester 1 (9/5 - 11/30)

Session 1: Monday - Thursday 12:30PM - 3:00PM
Session 2: Monday - Thursday 4:30PM - 8:15PM

Trimester 2 (12/4 - 3/4)

Session 1: Monday - Thursday 12:30PM - 3:00PM
Session 2: Monday - Thursday 4:30PM - 8:15PM

Trimester 3 (3/6 - 5/30)

Session 1: Monday - Thursday 12:30PM - 3:00PM
Session 2: Monday - Thursday 4:30PM - 8:15PM
Register Now